DO YOU GIVE YOUR DOG WATER FROM THE TAP? 
Hydration of course is very important, not only for us but for our furry family members.  So when we started chatting with clients about what their dog's drank, the consensus was tap water……..so we had to share.
First off, consider yourself lucky if you live in a country that does have clean drinking water, this is a privilege, however, we do need to take something into account when it comes to the water coming from your tap.
DID YOU KNOW THAT TAP WATER CAN LOWER YOUR DOG'S ABILITY TO MAKE ENZYMES?
That's right, and as your dog ages, the ability to make enzymes naturally starts to decrease as well, so this may be a major problem.  What does a lowered ability to make enzymes mean?
Lowered enzymes affect your dog's immune system, hormone regulation, mineral levels, waste and toxin elimination, as well as gallbladder function.
Most municipalities add fluoride to tap water, which is great for teeth, but is not great for thyroid function.  Fluoride interferes with the usage of iodine, which is needed for thyroid function.  So if your furry friend is drinking tap water and has a thyroid issue, it might be time to start filtering their water, to support their body to the fullest.
WHAT CAN YOU DO?
Filter tap water to ensure that it is pure and clean, and fluoride is removed.  There is a portable filtration system by Berkey, as well as a fridge system by Santevia that make great options as not all filters will remove fluoride.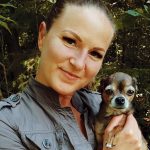 Vykon Pets founded by Lisa Pitel-Killah, Hair Mineral Analysis Expert & Educator, Board-Certified Holistic Health Practitioner, Functional Diagnostic Practitioner, and multi-time Kettlebell Sport World Champion.  Her animal study includes Holistic Carnivore and Equine Nutritionist and advanced Animal HTMA (Hair Tissue Mineral Analysis). Lisa is the host of the Human Optimization podcast and the co-host of the annual HTMA Virtual Summit, bringing mineral education to the masses.  The science of HTMA can identify exactly what your body, or your animal's body, needs to thrive.  Customize, simplify, and revitalize life with Vykon.