Kim Heintz
Functional Health Strategist,
Vykon Coach
Customize, simplify & Revitalize 
with vykon
Uncage the Power Within with the Right Supplements to Live and 
Perform Better based on Science.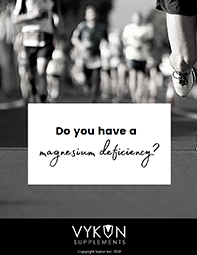 Do you have a
Magnesium Deficiency?
Magnesium is burned at higher rates when someone is stressed……..PLUS it is involved in over 600 enzymatic processes in the body.  Find out if you might be suffering, download your free guide now!
There is no better time than the present to live your best life
Whether it's better performance in the gym, foundational supplements to support overall health or a custom mix based on your unique cellular biochemistry via HTMA (Hair Mineral Analysis) testing, Vykon is committed to provide you with all-natural cutting edge formulas to help you erase debilitating symptoms, gain energy, stay sharper and achieve more.
"I love my custom powder. I used to have to take multiple bottles of supplements and now I just have one!​"
"I am just trying the custom caps. So easy 3 with breakfast and dinner. This is the easiest thing to fit into my day!"
"It is super awesome to have your own personalized supplement formulated specifically for your body's needs!"
"The probiotic has helped so much.  And we will be starting the vitamins to balance my boy soon. I highly recommend Vykon."
"Vykon's products are high quality, my clients notice an improvement in how they feel within a week or two of implementing. The customer service is unparalleled."
"Vykon has been a total game changer in my practice. Client feedback has been tremendous. I highly recommend Vykon!"