"The Equine HTMA testing is a non-invasive test that supplies a comprehensive lab report using charts, graphs and supportive documentation to show metabolic status, and provides corrective actions to address mineral imbalances, reverse physical degeneration and revitalize cellular metabolism (energy)."
A HTMA lab test uses hair tissue for analysis. The reason hair is used is because (unlike blood or urine) it is stable over time and provides several months of biochemical activity in a single sample. Obtaining a sample is non-invasive and inexpensive, and can be done without the need of veterinary intervention.
After 3 – 6 months, a progress retest is recommended. Often, the results are very different from the previous test. An updated, revised corrective protocol will then be recommended. Retesting promotes progressive improvement and helps address potential adverse reactions due to toxin removal and the readjustment of mineral ratios and levels. Progress retests are repeated until a healthy biochemical balance is achieved. The HTMA retest is the most biochemically revealing, cost-effective method for monitoring detoxification progress.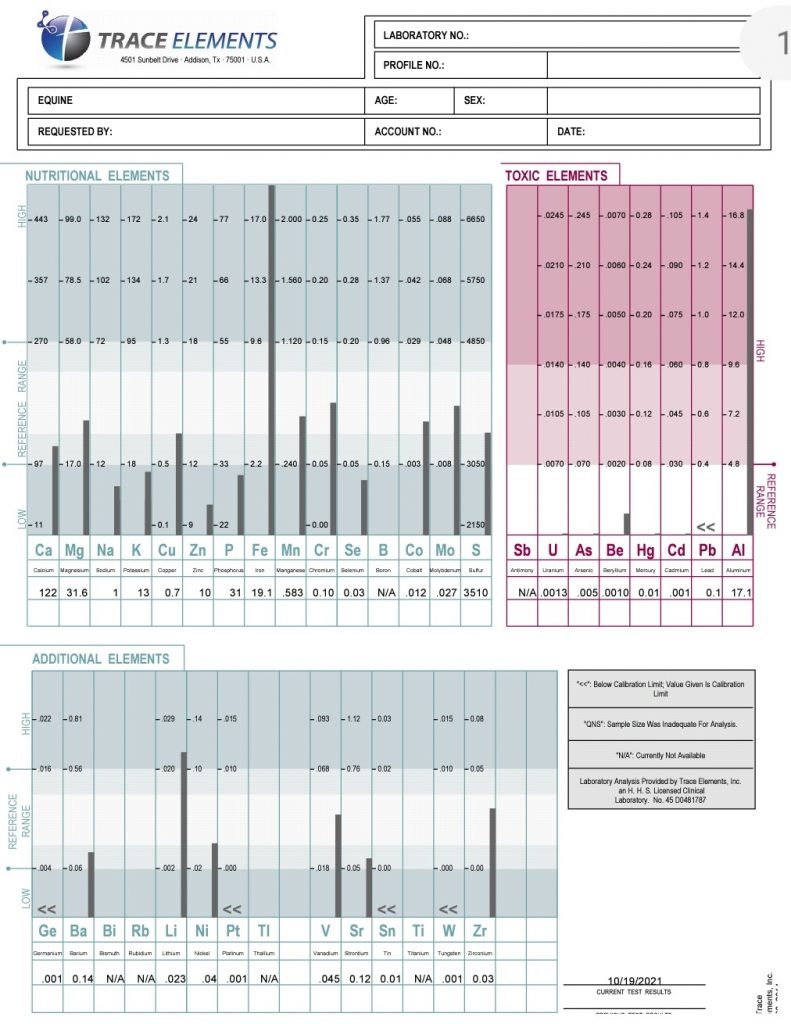 Hair is one of the most defining characteristics of mammals.  Like other body tissues, it contains minerals that are deposited as the hair grows, hence why we can identify so much from hair analysis.
In order to ensure that results are as accurate as possible taking a proper sample from the appropriate area is important.  The hair sample for a horse should be taken from the mane, cutting as close to the skin as possible and keeping the 1-1.5 inch sample with the fresh growth.  If the mane hair is longer than 1.5 inches snip the ends off  that would have been furthest from the skin and discard.  It is important once the sample has been taken not to wrap in aluminum foil, saran wrap, or put into a plastic bag, these can all contaminate the sample.  Put the fresh cut sample straight into a paper envelope by itself and seal.  If the horse has not been freshly bathed you can clean the mane hair in the area that you will be taking the sample with alcohol.  Let dry prior to taking the sample.
GIVE YOUR HORSE EXACTLY WHAT THEY NEED TO PERFORM BETTER
GIVE YOUR HORSE EXACTLY WHAT THEY NEED TO PERFORM BETTER