Live & perform better with vykon
Uncage the Power Within with the Right Supplements to Live and 
Perform Better based on Science.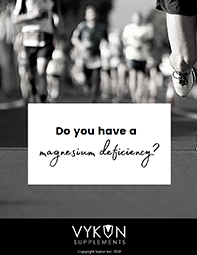 Do you have a
Magnesium Deficiency?
Magnesium is burned at higher rates when someone is stressed……..PLUS it is involved in over 600 enzymatic processes in the body.  Find out if you might be suffering, download your free guide now!
There is no better time than the present to live your best life
Whether it's better performance in the gym, foundational supplements to support overall health or a custom mix based on your unique cellular biochemistry via HTMA (Hair Mineral Analysis) testing, Vykon is committed to provide you with all-natural cutting edge formulas to help you erase debilitating symptoms, gain energy, stay sharper and achieve more.